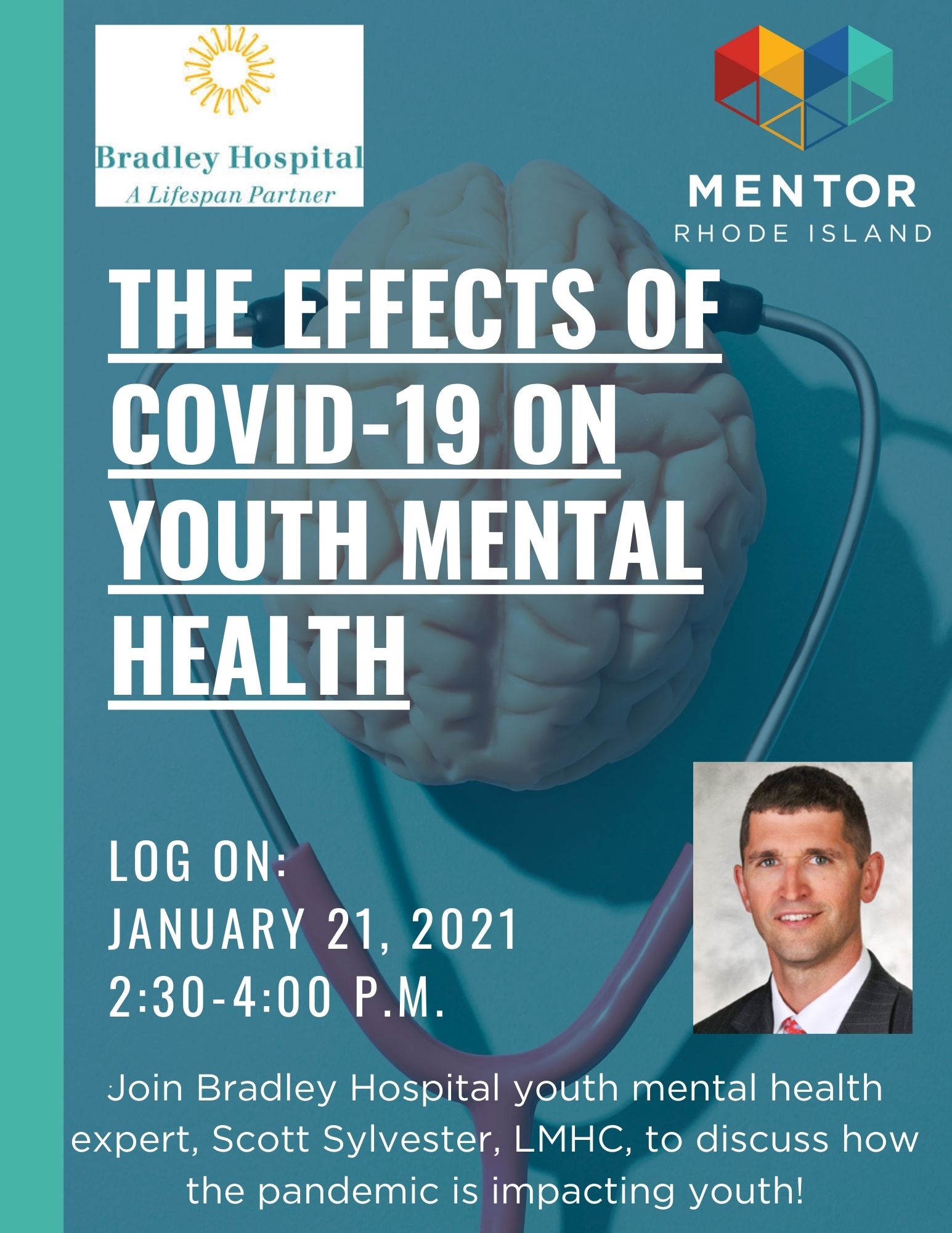 To Register: https://us02web.zoom.us/meeting/register/tZUtdO-rqzMpGtcjg9NWFK-ntuzgSh3xs9eQ
Workshop Description:
This year has been tough on all of us, but it has been extremely tough on the young people in our lives.
Join us January 21st from 2:30-4:00pm on Zoom as we discuss how COVID-19 has and still is affecting our young people's mental health. This workshop will be led by Scott Sylvester, a licensed mental health expert from Bradley Hospital.
NOTE: A certificate of attendance will be provided for any attendees who are using this workshop for professional development requirements!

One-Day Coordinator's Training
Cost: $75/Free for National Mentoring Resource Center eligible programs
TBD
9:00am-3:00pm
This is a full-day interactive training designed to help:
• New program coordinators get a viable youth mentoring program up and running.
• Professionals returning to the mentoring field and agency directors who are considering offering a mentoring program through their school or agency.
• Existing coordinators who want to revamp their current programs.
Using the Elements of Effective Practice for Mentoring (EEPM), the industry's nationally accepted best practices, MENTOR Rhode Island's training staff will take participants through the processes needed to recruit mentors, achieve community buy-in, screen and train mentors, match volunteers and youth in meaningful and fulfilling mentoring relationships, and discuss issues facing youth today.
Attendees receive a copy of the "How to Organize a Community Mentoring Program" training manual which includes all the lessons covered during the training. In addition, they will receive a "Mentor Training" manual as well as access to various forms and samples that can be tailored to individual mentoring programs. It also is the first step to the Assessment & Improvement process called, National Quality Mentoring System (NQMS) AND this training gives participants a chance to network with each other!
REGISTRATION INFORMATION TO FOLLOW