Program Operations and Technical Assistance
Here, at MENTOR Rhode Island we serve a network of 66 mentoring programs that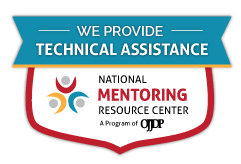 span 32 cities and towns throughout Rhode Island. Combined those programs serve more than 5,500 youth through the efforts of nearly 4,000 mentors. MENTOR Rhode Island is responsible for collaboration, training, and support among mentoring agencies.
MENTOR Rhode Island is happy to offer mentoring programs free technical assistance with the help of the National Mentoring Resource Center.
Using a grant from the Office of Juvenile Justice & Delinquency Prevention (OJJDP), MENTOR: The National Mentoring Partnership, created the National Mentoring Resource Center to ensure that all mentoring programs have access to the technical assistance they need.
Examples of potential technical assistance that might be requested by mentoring programs include:
procedures for conducting mentor training
revision of mentor training materials
guidance on mentor recruitment strategies
analysis of mentor screening processes
review of match support processes
development of match closure policies
All resources and technical assistance will be in alignment with the national standards for quality mentoring, The Elements of Effective Practice for Mentoring™.
Rhode Island programs that want to take advantage of this new opportunity should contact Marc Mainville.
MENTOR will review the request, and if it is accepted will assign the project to MENTOR Rhode Island. The new system will allow MENTOR to track the assistance that is needed by and provided to mentoring programs across the country. It will also allow MENTOR to reimburse the local partnerships for the technical assistance they provide.
The bottom line for our network partners: You'll get the same friendly and knowledgeable experience you've come to expect from MENTOR Rhode Island at NO COST to you.