FREE Training and Technical Assistance for Youth Mentoring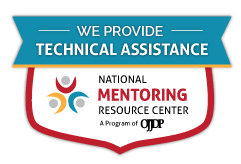 MENTOR Rhode Island is happy to offer youth serving programs FREE training and technical assistance for mentoring through the National Mentoring Resource Center.
Whether you want to start a mentoring program or ensure your current program is using the research-based best practices in the field; MENTOR Rhode Island is the only provider in the state approved by the National Mentoring Resource Center to deliver these services.
Examples of technical assistance offered by MENTOR Rhode Island through the NMRC:
program design and development
operating a mentoring program
recruiting mentors
keeping kids safe with a robust screening process
making mentor/mentee matches
supporting mentoring pairs throughout the life of the match.
evaluating and elevating the success of your mentoring program
All resources and technical assistance are in alignment with the national standards for quality mentoring, The Elements of Effective Practice for Mentoring™.
Rhode Island programs that want to take advantage of this opportunity should contact Program Development Manager, Ross Bouchard, at 401-732-7700 or RBouchard@MentorRI.org.