Do you interact with youth at work or at home?  Then you need to know about Everyday Mentoring!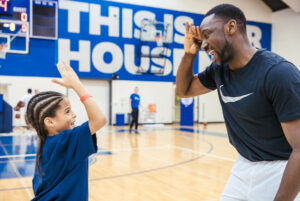 Everyday Mentoring empowers adults who interact with youth to develop a mentoring mindset, equips them to serve youth's needs, and inspires them to be more intentional in their role as a naturally occurring mentor. Through our Everyday Mentoring Training we can connect more young people with adults who are prepared to help them dream big and work hard to reach their goals.

What is the Everyday Mentoring Training that MENTOR Rhode Island Provides?
Our Everyday Mentoring Training is a two-hour interactive training to support and empower caring adults who work with youth throughout our community.  Because of the support of a federal grant right now this training is absolutely FREE of charge.
Based on the Developmental Relationship Framework from the Search Institute, participants will learn:
The concepts and skills associated with being a positive, caring adult in the lives of youth.

By being intentional about building relationships into the culture, youth will view the adults they interact with as an adult that cares about them as individuals.

Who Should Sign-up for this Training?
Adults who have regular interactions with young people can use Everyday Mentoring to help youth feel known, recognized, cared for, and supported!  Some of those adults might include:
Sports Coaches 

Club and Activity Leaders (Chess, Robotics, Piano, etc.)

Teachers and all other school staff

Staff at both public and private agencies and programs who interact with youth

Police Officers, Firefighters and other public service professionals

Members of a Faith Community

Librarians

The parents who regularly host their child's friends group (many of us had that one house that we were always at)

The list could go on-and-on!
How Do I Get Myself or the Organization I Represent Registered for an Everyday Mentoring Training?
Contact: 
Ed Mastriano-Training Manager
Emastriano@mentorri.org
(401) 732 – 7700
Don't Take Our Word for It…
Here are just some of the organizations that have joined us for Everyday Mentoring Training:
Providence Public Schools

Providence Police

Inspiring Minds

Pawtucket Boys and Girls Club

East Providence Boys and Girls Club

Rogers Free Library

Woonsocket Public Schools
And here are some of the things they're saying about the experience:
"This training was fast-paced with lots of activities.  The lessons were clear and the advice given was actionable."

"MENTOR Rhode Island delivered an amazing training that helped me understand my power to make a difference in a child's life."

"This training was informative with lots of engaging activities.  The trainers made the concepts easy to understand."